Indian Blue is thrilled to announce that our director, Kali Caramia will be joined by a new Co-Director in July! We are delighted to welcome Bec Hewitt to our team and look forward to another new chapter in our fabulous journey.
Bec Hewitt has been actively involved in music and performance for 20 years as a soloist, jazz band lead singer, community theatre, and choral singer. She has been involved in barbershop for 15 years during which she has participated as a chorus member, a voice teacher, a coach, a quartet singer, a director and as a Singing Judge in the Australasian Guild of Barbershop Judges for Barbershop Harmony Australia. Most notably, Bec was the Lead in 6 time Region 34 Champion quartet Hi-Jinx, and is the Musical Director for Vocal Evolution in Perth.

Bec is a member of the Sweet Adeline's Regional Education Faculty and the Barbershop Harmony Australia Regional Education Faculty. She is also the General Education Coordinator on the Region 34 Regional Resource Team.

In her 'life outside of Barbershop' she runs her own business, Just Sing! Teaching voice and performance to singers of all ages and all styles.
Bec loves working with singers and groups and helping them to find their inner voice and realise their potential.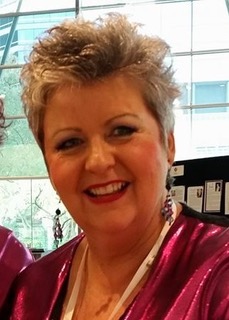 Kali Caramia has been a member of Sweet Adelines International for over 22 years. She is a graduate of the Perth Modern Music School and a student of a number of instruments over the years, (piano, clarinet, double bass and now cello). Kali 'found' barbershop in 1996 and went on to complete her Directors' Certification in 2001; has won three regional quartet championships (and two silvers) with BlackJaQ quartet, sang bass and served as section leader in Perth Harmony Chorus from 2002 – 2013 earning 5 regional gold medals and one silver and has represented Australia internationally at a chorus and/or quartet level on five occasions.

Kali has served as the Region 34 Team Coordinator (2012– 4), the Sweet Adeline International (SAI) Editorial Review Board, the Region 34 Bylaws and Standing Rules Committee, the RMT Nominating Committee and is currently serving as the Region's Directors' Coordinator and as a member of the Regional Education Faculty. She has also become one of the first Directors in Australia to be awarded the new Harmony 500 pin as part of the Sweet Adelines International Directors Certification Program, by Indian Blue achieving over 500 points at competition when they also won their first medal, placing 3
rd
mid-size chorus at the Australian Sweet Adelines convention at the Perth Convention Centre in May 2017 with 48 singers on stage.
Kali continues to gain knowledge by attending as many educational events as she can at both men's and women's regional and international events.
The next step in Kali's journey with barbershop is joining the amazing Lions Gate Chorus in Vancouver, Canada. In September of this year she will be living in Vancouver and singing with Lions Gate under the direction of Master Director Sandy Marron and next year will live in Canada for 5 months and compete with them at the International convention in New Orleans in September 2019. The education and knowledge she will gain during this time will be a fabulous injection into Indian Blue's knowledge base.

Indian Blue Chorus is embarking on a new journey, one of harmony, education and excitement over the months to come with this fantastic duo leading the Chorus forward.